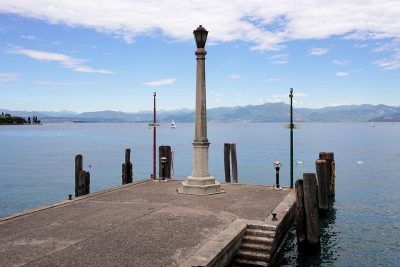 Lake Garda is one of the most popular areas for cyclists from all over Italy. Even those who use the bike to keep fit and professionals train one of the shores of the lake very often.
Around the Garda there are many paths that develop in nature. The itineraries that develop around the lake do not run only in the plains but allow to reach also the top of the mountains that surround it. The view from up there is wonderful and is worth all the effort to get there.
The route that we propose concerns the area between Peschiera del Garda and the Torri del Benaco. You cycle through the charming villages of Albisano and San Zeno di Montagna.
It starts from Peschiera in the direction of the Eastern Gardesana, towards the inhabited centers of Lazise and Bardolino. The road proceeds slightly uphill, not too demanding. This area is very popular with cyclists because it offers exceptional views and very fun routes.
Lazise is a beautiful fortified citadel that deserves a visit. Once over, you face an uphill section, quite challenging but short, which allows us to reach Bardolino.
From here to the Torri del Benaco the road is very scenic. Reaching the town of Lumini, a natural panoramic balcony, is not difficult. It is worth to work hard and then enjoy the wonderful view of Lake Garda.
Continuing uphill you reach the villages of Albisano and San Zeno di Montagna. After the town of San Zeno begins a long descent during which you have to be careful.
Then returning to the shores of the lake you can finish the journey back to Peschiera del Garda.