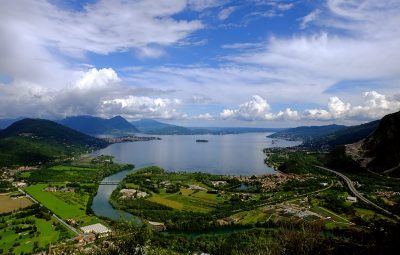 Cycle tour ring on the shores of Lake Maggiore through Cerro di Laveno, Monvalle and Leggiuno.
The province of Varese is an ideal area to explore on bicycle. The numerous lakes, natural parks and cycling routes make the area truly full of opportunities to combine sport with tourism.
One of the best itineraries to discover crafts, typical products and historical monuments of the territory is the ring that from Cerro di Laveno reaches Monvalle and Leggiuno.
The whole trail, 17 km, is well marked with the VVL-C1 sign on white-red panels.
The first section closely follows the profile of Lake Maggiore, allowing cyclists to appreciate colors, landscapes and fragrances. After about 4 km from the departure, a short deviation from the marked trail reaches the Hermitage of Santa Caterina del Sasso. It is a sacred place among the most fascinating of the whole lake, set on a rocky spur overlooking its waters. The hermitage is a true landscape pearl of Lake Maggiore, which jealously preserves several antique frescoes and a 1300 bell tower.
The trail continues southwards in the direction of Arolo, a delightful historic village on the banks of the lake. Here you will find a small bathing beach that is easily reached from the center of the village by a charming stone staircase.
The itinerary then continues in the interior to reach Monvalle and return to Cerro passing through the hilly town of Leggiuno.
Within a short distance from the latter, in Parco Regionale Campo dei Fiori, you will find the Sacro Monte di Varese, a World Heritage Site that is part of a 2 km hiking trail. Walking in the nature of the park you will find 14 chapels dedicated to the mystery of the rosary.
The last resort you will encounter on the way before you come back to Cerro is Laveno Mombello, a major tourist port on the lake from which also ferries to the Borromean Islands and the Piedmont shore leave. Laveno Mombello is known for its lake fish, soups and the most sophisticated paradise cake: you must have a local product-based dinner!