The Cycle Track Valle dei Laghi is located in the Trentino region between Torbole, Arco and Terlago. The route runs for about 40 km along the banks of the river Sarca.
It is possible to follow the track following the direction of the river, therefore keeping a slight downward trend, or in the opposite direction. In any case, the difference in height is just 400 m.
The path starts from Torbole, on the shores of Lake Garda, where the river Sarca flows, and you cycle immediately in the direction of Arco. We are at the foot of Mount Brione, a wonderful mountain that can also be seen along the entire first part of the route. The cycle track Valle dei Laghi enters the real historical center of Arco. This town deserves a detailed visit especially as regards the ancient castle and the village that surrounds it. Then the path continues towards Ceniga and Dro.
In Ceniga you cycle on an ancient Roman bridge that crosses the Sarca. Near the bridge there is a small pebble beach that in summer is very popular with the local kids and teenagers. It is a true pearl of the territory, an evocative and scenic place ideal for taking some souvenir photos.
The cycle path then leads out of the village and later crosses the Marocche di Dro, the largest landslide in the Alps. Here you can see dinosaur footprints imprinted on the ground millions of years ago. The landscape is rocky, almost lunar, it stands out clearly from the vast olive groves that have been overcome just a few kilometers before.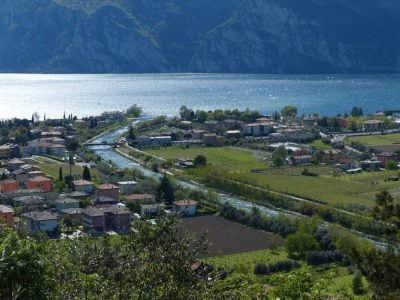 Continuing we enter a wonderful forest and then again the landscape changes. In fact, you reach the Pietramurata area characterized by large farms and vineyards as far as the eye can see. In the background the Alps make the landscape truly unique.
The Cycle Track Valle dei Laghi then arrives in Sarche and continues along the shores of Lake Toblino. Here you have a magnificent view of the Castel Toblino, the romantic fortress that characterizes the lake, almost completely surrounded by water.
A short climb leads us to Vezzano and then to Terlago where the track ends.