Men and women undoubtedly have a different anatomy, but talking about women's bikes and men's bikes is not entirely correct. The "right" bicycle is the one that best suits the physicality of each of us, regardless of our genre.
The first women's bikes began to appear in the early 1930s and are now common than ever.
All modern manufacturers in their catalog have a wide range of bicycles for women including city bikes, racing bikes and mountain bikes. But, how to choose the most suitable one?
The most important factor is the size of the bicycle frame. It must be calculated based on height, bust size and length of arms and legs. An over-sized frame, on long-term, could cause annoying pains on the knees, neck and back.
The first measure to take to find the best frame is that from pubic to heel bone, then it's crucial to have an idea of the more comfortable distance for you between saddle and handlebar.
Trying is the best method: when you sit on the saddle, if you are forced to stretch your arms to reach the handlebars, the frame is too big. If, on the other hand, you can not completely stretch your arms, the frame is too small. The handlebar size will be calculated according to the width of the shoulders.
Women's saddles have different characteristics than men's saddles: are usually wider to provide grater comfort even for long pedals and some also have central splits designed to best fit the female body.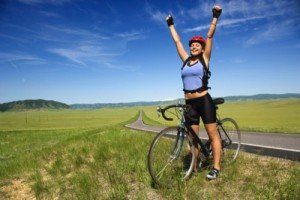 Other components to consider are gear lever and brakes levers which are sometimes too big for woman's hands. These are small tricks, but you must not underestimate it: being able to brake immediately is at the basis of bicycle safety.
If you want to go safely, you can go to biomechanics experts who are able to adjust the saddle position and handlebars according to your physicality or do more in-depth analysis to advise on choosing the best frame.