The Via delle Abbazie is about 26 km long and runs around Foligno. Along this itinerary there are several religious sites, including convents, abbeys and historic churches. This is not a challenging journey because of its length, but it has two climbs that require strength and endurance for this is reserved only to experienced and trained bikers.
Foligno is the third most populous city of Umbria (about 60,000 inhabitants) as well as one of the most interesting from the artistic, cultural and historical point of view. Are worth a visit to the Duomo, Palazzo Comunale and Palazzo Trinci.
The itinerary of Via delle Abbazia starts right from the historic center of Foligno. When you leave the city you head towards the Convent of St. Bartholomew. Right in the vicinity of the convent begins one of the climbs of the route. It develops on dirt road and the first stretch is very demanding with slopes of 15%. The second stretch runs through a dense forest with a stony ground, which in some places forces you to put your feet to the ground.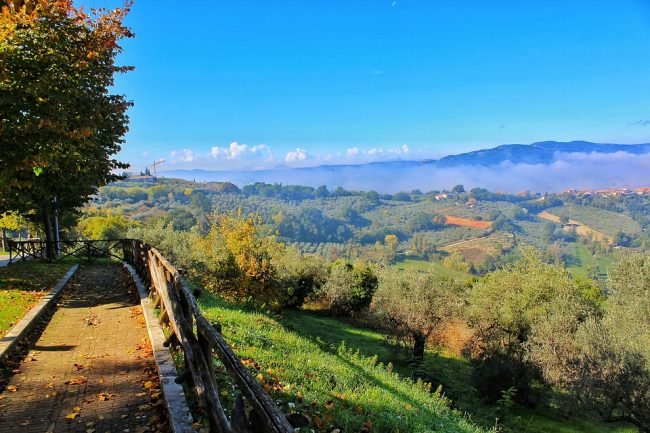 After the climb, it is at the top of Mount Cologna. From here you enjoy a wonderful view of Foligno and its countryside.
Descent requires as much attention due to irregular terrain. It goes down to the small village of Roviglieto nestled between woods and olive trees. In the village there is a drinking water fountain that can be drawn to fill the bottle.
You leave the village by taking a long downhill path through the woods. At the end of the trail you face the second challenging climb of the trail. This, however, does not last as much as the previous one, just a chilometer. Then begins a pleasant downhill that brings us back to Foligno.
You cross the towns of Cancellara, Scandolaro and Corpello to return to the Convent of St. Bartholomew.
Also nearby are the Church of Santa Maria in Campis, the Abbey of Sassovino and the Hermitage of Pale.