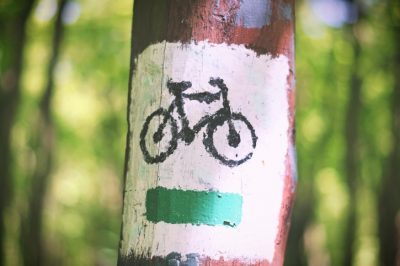 The Val Venosta is crossed by a 65 km cycle track that runs almost entirely on a protected roads. Near the track there is also the local railway line and if you want you can alternate stretches on bike and stretches by train. The route starts at Malles, a tourist town on the border with Switzerland and Austria, and ends in Merano, the most populated center of the province of Bolzano. In this direction the bike path is all downhill, there are, in fact between the two locations, almost 1000 mt of altitude difference.
Path
Before departing from Malles, it is advisable to take a tour of the city to admire its romantic bell towers, famous throughout the area. In a few km you reach Glorenza. The city, overlooking the Adige River, is still today completely enclosed by walls and is very evocative.
From the fortified village in the direction of Prato allo Stelvio begins the climb that leads to an Alpine passage among the highest in Italy (2,758 mt) much loved from cyclists. However, the cycle path continues to descend through vast fields with immense expanses of apple orchards. Trees loaded of fruit all along the track all the way to Cengles. Continuing, you are back to pedal near the Adige river, crossing the village of Lasa passing near Silandro.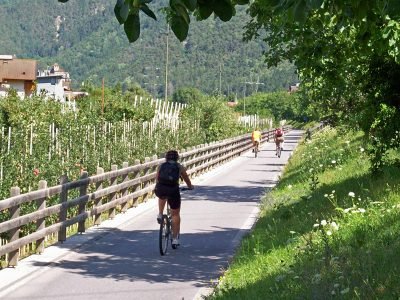 If you want to visit this country you need a detour, the cycling route of the Val Venosta continues in the middle of the orchards until you reach Laces. There are now 25 km to the final destination, here the valley narrows and for a short stretch the bike path run along the river, the highway and the railroad. At Naturno, about 5 km later, the valley returns to widen and only the Adige continues along the cycle path.
The last stretch follows the course of the river crossing the village of Parcines, where there is a curious museum of typewriters, and the center of Lagundo, which in addition to the fruit trees also boasts a few hectares of vineyards. Merano is just 2 km away.