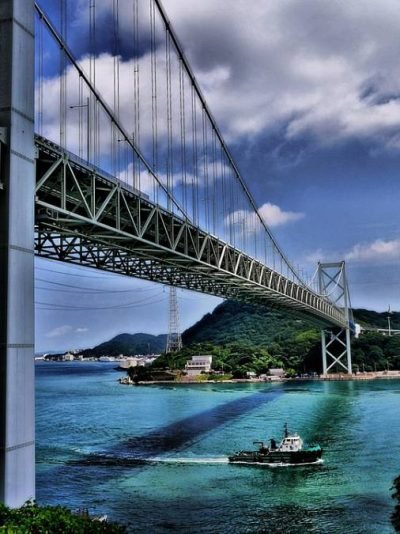 Bike-friendly Japan is a reality to be discovered … one island at a time. The Shimanami Kaido is a 70 km cycle route that connects seven islands of the inland sea of Japan.
Along the trail you can appreciate the rural face of the country: the countryside, the sea, the hidden temples of the hinterland. However, some parts are less pleasant because they run along industrial areas, commercial ports and shipyards. If you want to visit some of the wonders that hides along the path you can not miss the temple of Kosan-ji on the island of Ikuchi-Jima.
The Shimanami Kaido is actually born as a highway connecting the islands of Honshu and Shikoku, but on the side of the roadway, or under it, has perfect cycle lanes. Slowly the route has become famous among cycling enthusiasts from Asia and Australia, while in Europe it is still less known.
The route does not present any difficulty, it is also suitable for less trained cyclists. It is possible to cover all the 70 km in a single day or to forecast an intermediate stage that allows you to visit these places slowly.
The suitable bicycles can be rented directly on the spot, at the start in the village of Onimichi, and return to any rental station along the route. The entire route is also covered by a ferry that in just an hour and a half connects the arrival and departure of the bike path also making several stops in between. So if you are tired of pedaling you can proceed for a few kilometers by boat.