Salento is one of favorite destinations for summer vacations in Italy, but in autumn and spring it's a great way to spend some days on the pedals.
The tour of the Salento by bicycle is about 210 km long, almost all flat, which can be divided into 4 stages from about 50 km.
1st Stage
Lecce – Otranto: 48 km
Exit from Lecce you take the SP289 until you meet on the right a white road marked as "cycling tour" ending in Acaia. We pedal through fields of secular olive trees.
Continue for Vanze and then for Acquarica di Lecce until you can see the sea. The road stays flat and keeping the sea on you left comes to Otranto.
2nd Stage
Otranto – Leuca: 55 km
It's the most challenging stage of the four because the road has continuous ups and downs. You exit from Otranto by taking the SP 87 that winds along the coast. The road touches the towns of Porto Badisco, Santa Cesarea and Castro: they all deserve a stop because they give a truly wonderful view of the sea.
You continue always surrounded by prickly pears to Santa Maria di Leuca.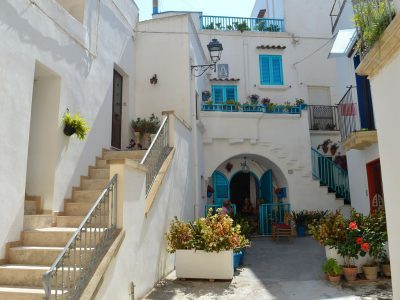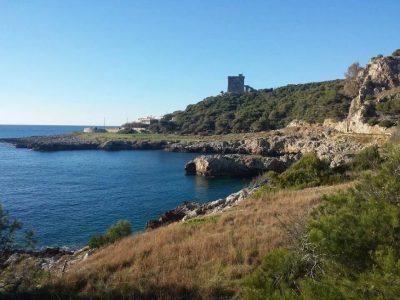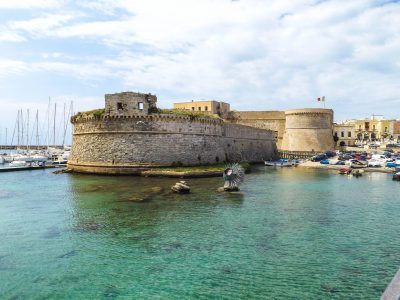 3rd Stage
Leuca – Gallipoli: 54 km
Leaving Santa Maria di Leuca you go north along SP 214 and SP 91. Keeping the sea always on the left, you walk along the coast and you can admire the numerous towers of sighting used in the past to defend the territory.
Once you arrive in Gallipoli don't miss the opportunity to take a walk along the ancient walls and alleys of the historic center.
4th Stage
Gallipoli – Lecce: 53 km
SP108 takes you out of Gallipoli and allowing you to admire the sea for 15 km to the locality of Santa Caterina. Here you have to turn into the hinterland towards Nardò.
Stop by admiring its historic center of a shiny white absolutely unique!
Continue in the direction of Cupertino and then San Pietro in Lama until you reach the center of Lecce.