The Copenhagenize Index 2015, the most up-to-date ranking of the european bike-friendly cities, has evaluated several cities around the world also this year and has drawn up a list of the best 20. We present you the first four. Each of them could be a great idea for the next bicycle trip! Denmark and Holland are obviously in the first places, but in fourth place there is something new to discover…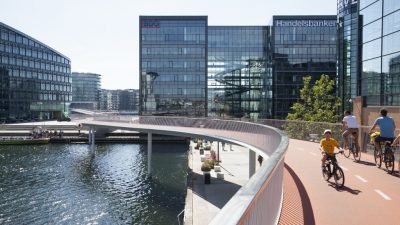 Copenhagen
Recent investments of the municipal administration in favor of sustainable mobility, they made does a huge leap in quality to the capital city.
In recent years, the construction of various bicycle paths over large traffic arteries, such as the "snake", has further facilitated the movement of local cyclists and, other 4 bridges exclusively dedicated to bicycle traffic are under construction. The cycle paths of the center, already in excellent condition, were improved. It also takes shape the idea of adjusting the green of the traffic lights to the gait of the bicycles, by replacing the normal times of the cars which, until now, have been the rule.
Amsterdam
Amsterdam remains the main European reference point for two-wheeled mobility: perfect cycle lanes, proper signals and safe parking places. By now, however, it is invaded by bicycles and it would be time to reorganize the traffic of cyclists, pedestrians and cars that every day crowding in the city center. Instead of rest on the goals already achieved, Amsterdam should think about moving to the next step or in the long run it may lose the status of bike friendly city, as it is known around the world.
Utrecht
Among the small and medium-sized European cities, Utrecht is definitely the leader in sustainable mobility, it is no coincidence that it was chosen for the starting point for the Tour de France 2015.
In the city, the largest bicycle parking is being built, which, once completed, will have enough space for about 12,500 vehicles. However, city bicycle trails are alternated with short stretches of pavé that can be an obstacle for cyclists, but once removed them, Utrecht could also steal the primacy to the capital Amsterdam.
Strasbourg
In his country, France, he is already at the top of the charts.
In the course of a generation, Strasbourg has developed an enviable network of bike lanes that, overall, exceed 500 km. Bicycle routes extend between the city center and the most peripheral neighborhoods, so, the bike has become the fastest way to cross the city. Strasbourg also boasts an excellent bike-sharing service: hire stations, short or long-term, are really plenty and several bicycles are also equipped with a child car seat.