Vienna, the capital of Austria, is a fascinating city, ideal for cycling. It is located along one of the most beautiful bike lanes in Europe, the Danube Cycle Track, and boasts about 1,300 km of bike paths and an efficient bike sharing service. The city stretches across a vast plain so the few uphill runs are very short and uncomplicated.
The old town of Vienna is mostly included within a circle of about 1.5 km in diameter. Biking is the best solution to visit all of the major attractions and make it easy thanks to the Ring Cycle Track. It is a 5km long ring that runs through the historic center passing through the Museum of Fine Arts, the State Opera House, the Parliament, the University and the Museum of Natural History.
A beautiful track on which to ride is also the one that crosses the Danube's city stretch. It is possible to move both at the road level and downstream of the river, the favorite place for young people in the summer.
One of the areas to be missed if you are cycling is then the Prater Park, a large garden almost completely closed to traffic where you can find the luna park and the panoramic wheel. The same goes for the island in the Danube (Donauinsel) where the Viennese go to practice sport outdoor.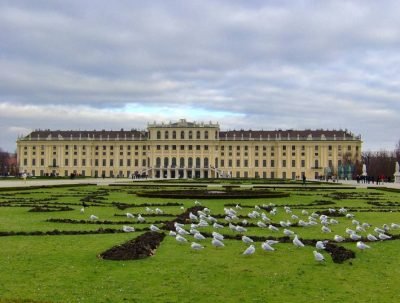 The famous Castle of Schonbrunn is about 6 km to the city center and is also easy to reach by bicycle. From the Ring Cycle Track, in fact, just turn on Linke Wienzeile to the Palace of the Opera and follow the directions.
If you are tired of pedaling it is also possible to bring the bike on the subway on holidays and on Saturdays with a simple racing ticket. During the week, bicycles are only accepted in certain times (9 am to 3 pm and 6 pm at end of service). Transportation on buses and trams is only allowed for foldable bicycles without restriction.