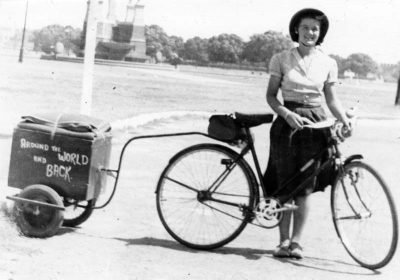 Born in Dunedin, New Zealand, Louise Sutherland (1926 – 1994) is one of the firsts cyclotourists women in history.
She was a nurse and she discovered the pleasure of pedaling in 1945 when she traveled her firsts 100 kilometers on bicycle to visit her parent. The experience made her happy and curious to try again. She moved to London for work and from England began her journeys. After landing in France she decided to discover Europe, with in her pocket the nurse qualification she could take a break and working every time that the money ended. We are talking about the end of the 40s, an era when travels on bicycle were absolutely not common especially for a woman!
In Switzerland, Louise bought a trailer for the bike to carry the camping equipment and with that she reached Yugoslavia, Cyprus and Israel. Arrived at Beirut in Lebanon, her visa was refused and she wasn't able to buy a train ticket. Unaccompanied woman weren't allowed to travel on train neither in third class! She decided to visit India, she went there with the ship. When she crossed the country, her father's illness brought her back to New Zealand for some time, but immediately after, Louise reclaimed her bicycle. She boarded for Canada, crossed also the Fiji Islands and Hawaii, and went down to New York.
Louise also suceeded to cross the Amazon Forest alone, avoiding the thousand dangers that it was hiding. No one believed it was possible: no roads, no company in almost unknown countries… At the end of her travels, Louise Sutherland had gone through 54 nations pedaling over 60,000 kilometers.