A large water mirror and vast green spaces are the ideal setting for a quiet ride, a dream that for many cycling enthusiasts takes place in Umbria on the shores of Lake Trasimeno.
Around the lake there is a beautiful ring route that largely exploits the cycle path between Castiglione and Sant'Arcangelo. The track was inaugurated in 2005 and for the time it only covers half of the ring but the project is stille in operation and once is completed, it will be possible to make the lake tour completely safe on asphalt and with road without any difficulty.
For these characteristics the trail is particularly suitable for beginners of the bike and for some parts even for children.
The complete itinerary is about 70 km long and has a difference in height of just over 400 m.
The surroundings of Lake Trasimeno are very impressive; the hills are covered with vineyards and dotted with small medieval villages that have remained unchanged over time, traffic is almost nonexistent. It's possible to start the journey from any town overlooking the shores of the lake, like Castiglione or Sant'Arcangelo, but also Passignano, Tuoro, Monte del Lago (small fraction of Magione), Panicale. Each locality offers panoramic views of incredible beauty on the Trasimeno Park, including the villages, castles and vineyards that surround it. With the slow pace of the bicycle, in the company of friends or family, you can really appreciate every km!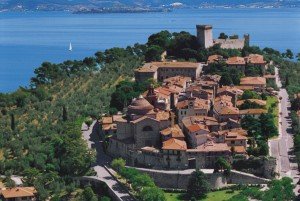 However, even the fearless bikers involved in free-ride and mountain biking can enjoy and appreciate the scenery of the shores of the lake. From them there are several hiking trails that, using single-track, technical passages and dirt roads, make the Trasimeno ride possible without having to pedal almost ever on the asphalt.