Lake Tenno is a small turquoise water mirror set in the green woods of Trenitno. A joy for the eyes, a true natural paradise formed in the Middle Ages after a landslide.
The pastel colors of the lake and the surrounding vegetation give it a particularly enchanting atmosphere, as if it had just come out from a fairy tales book.
The path that goes around the lake is accessible only on foot, but in the vicinity there are several possible routes for those who traveling by bicycle.
The proposed itinerary starts from Riva del Garda about 10 km south of the lake, and allows you to visit some of the most beautiful local attractions.
As soon as you depart, you must face a challenging climb that ends in Varone. The effort is rewarded by the mervelous view that can be enjoyed from the top: secular olive trees, aromatic plants and drywalls, an incredible Mediterranean panorama!
You continue pedaling uphill on asphalted and dirt roads to the center of Tenno.
You have to go un a little bit, but as soon as you arrive to the top your eyes are attracted by the blue reflections of the Lake Tenno. It's possible to reach its shores descending a staircase, so you will need to carry the bike on your shoulder for a short stretch.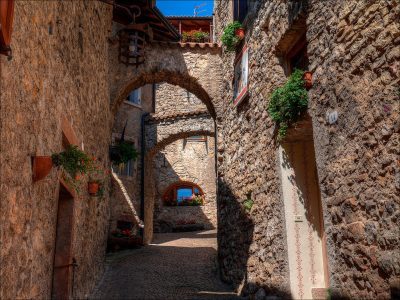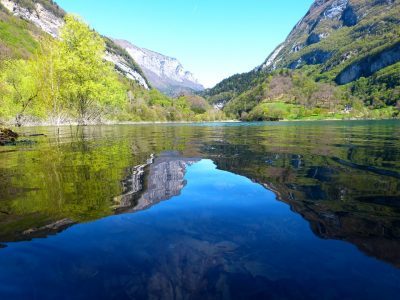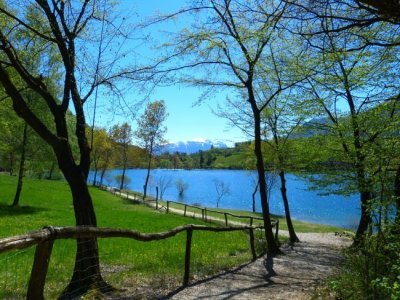 Right next to the lake there is the medieval village of Canale di Tenno. Here the time seems to have stopped, it's a small pearl of the territory that you simply cannot miss. In the winter there is organized a craft market that makes the village even more impressive.
The route continues downhill and returns to the starting point.
In total the itinerary is about 35 km long and has a 650 m altitude difference. It requires the use of a mountain bike and also an adequate training, especially to face the climbs that reach a slope of 20%.
It takes about 3 hours to complete the route, but if you have the whole day you can take advantage of it to soak in the relaxing waters of the lake or visit the local farms.