Not many people know that New York is a cutting-edge city even in the bicycle world. In addition to a bike sharing service, for the moment reserved for residents, you can take part in numerous bike guided tours that take advantage of the Grande Apple's cycle paths to visit the most popular locations in the city such as the Brooklyn Bridge and the Hudson River.
One of the safest and most popular paths we would recommend is the Bike Tour of Central Park.
Symbol of the city, the green lung of New York occupies a huge surface ranging from 59th to 110th Street, and from 5th to 8th Avenue.
Along a little less than 10 km, the tour allows you to visit the most famous and suggestive places in the park.
Starting from the entrance on 59th street, you start pedaling on the east side of the park and the first attraction you encounter is the carousel: a carousel with 57 horses restored in the 90s that used to be part of the famous Coney Island Luna Park.
Going north is the Bethesda Terrace. Overlooking the lake, this terrace is considered the heart of the park and has been immortalized in many Hollywood movies.
Later on you reach the Belvedere Castle, a miniature medieval castle from which you enjoy a wonderful view of the Great Lawn and the rest of Central Park from its highest point.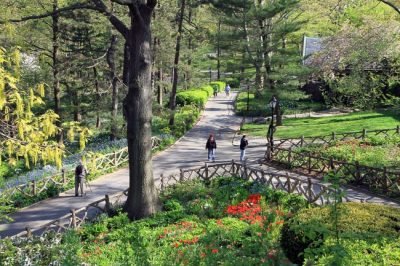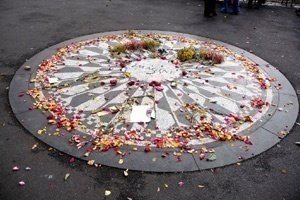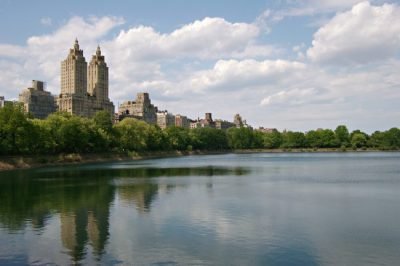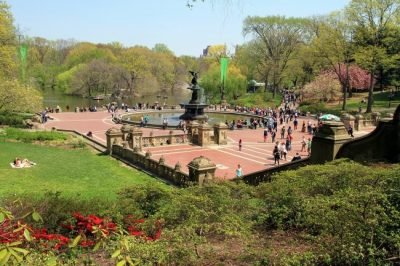 The pedal continues towards Shakespeare Garden, one of the most charming gardens in the park. Here are collected plants and flowers mentioned in the works of the English poet and various bronze plaques that portray his verses.
Further north, the water reservoir dedicated to Jacqueline Kennedy and later the stream, The Loch, is one of the best engineering works in the park.
Arriving from the other side of the park you go back along the west side. It's worth taking a break at the John Lennon Memorial where every day fans place flowers and tickets.
For a rest stop, you can take advantage of Tavern on the Green, an American kitchen restaurant that used to be the residence of shepherds working in the nearby sheepdog. Today the area has been transformed into a lawn: the Sheep Meadow.