Montalbano is a small hilly group of the Apennines located in north-east Tuscany. The hills are a watershed between two plains: the plain of Florence-Prato-Pistoia in the east and the Valdinievole and Arno Valley in the west. It's a populated territory since very remote epochs that the Medici family used as a hunting reserve.
The proposed route allows you to visit some of the most beautiful Tuscan towns avoiding the busy roads of the plain but also the hilltops.
The track mostly uses asphalted roads that have continuous ups and downs. Due to the length and the frequent climbs, this route is recommended for trained cyclists.
PATH
Starting from Florence we take a first stretch along Eurovelo 7 through the Cascine Park and then head west to Poggio a Caiano on a rather busy state highway, the only "dangerous" tract of the entire route. Once you arrive you can stop at the Medici villa builr in 1480 by Lorenzo the Magnificent.
The trail continues slightly uphill for about 5 km and then enters the countryside through several small localities until Quarrata. Here is another villa of Medici, Villa La Magia, absolutely to be visited.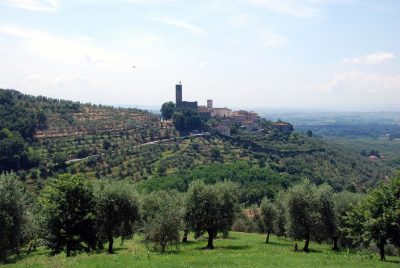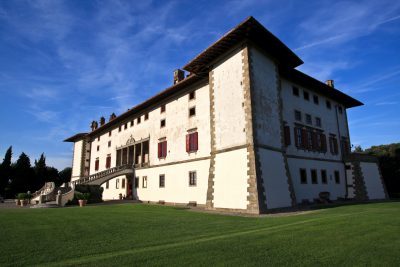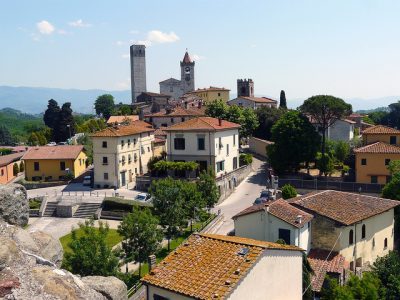 We are not far from Pistoia, a small and pretty Tuscan town with a very old hamlet. However, to visit it you must deviate from the proposed trace.
Few kilometers later comes the time to cross the Pass of Serravalle and reach Valdinievole:
it's a tough climb, but short, followed by a sweet descent ending at Monsummano Terme.
From here proceed south to Padule di Fucecchio and then return to Montalbano near Vinci, the birthplace of the famous Leonardo.
Continuing to pedal towards south, leave behind the Montalbano hills in favor of the Empoli plain.
Around 85 km you will find the Arno bicycle trail that brings us back to Florence, the starting point.
Just before you arrive, don't miss the opportunity to visit the medieval village of Artimino.