The itinerary from Orvieto to Tarquinia is an ideal tour of Central Italy: from the green heart of Umbria up to the Tyrrhenian Sea.
For all the 97 km you are pedaling on paved roads but not interested by car traffic. The distance is quite demanding and so are the climbs that you will have to face. However, one or more intermittent steps can be programmed to enjoy the trip more comfortably.
The route crosses some of the most beautiful cities of Umbria and Lazio: Orvieto, Bolsena, Marta, Tuscania and Tarquinia. This territory boasts a truly incredible historical, artistic and cultural heritage.
The starting point, Orvieto, is worth a visit. Once on the saddle, proceed immediately towards Lake Bolsena. In this first stretch, the road is uphill for a dozen kilometers. When you get to the top you are paid off by the lake view and vineyards that cover the surrounding hills.
After reaching the crossroads for Montefiascone, begins the long and wild descent towards the historic center of Bolsena. Along the way you can see an Etruscan archaeological site and the medieval castle of the city.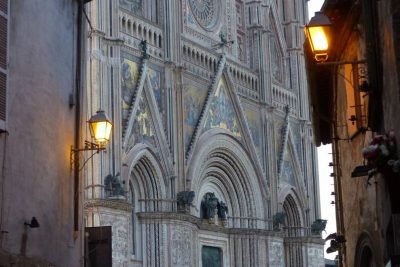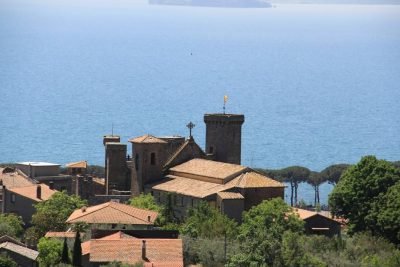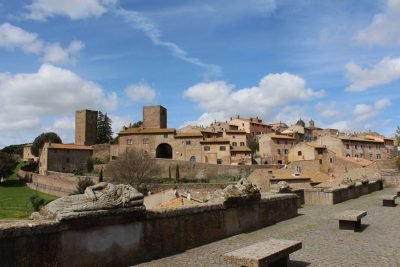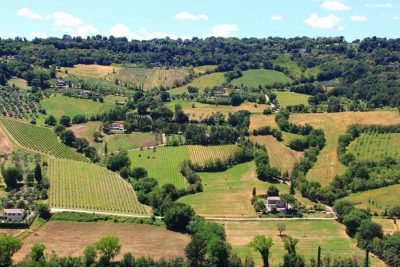 Within a few kilometers you reach the shores of the lake and the trail begins to flow more pleasantly. The next climb is also the last one of the entire itinerary: from Lake Bolsena to Montefiascone. The village is famous for its Duomo and for its excellent wine production.
Then proceed again slightly downhill through the village of Marta and then along its river for another 15 km to Tuscania. You cycle immersed in nature without having to pay attention to excessive speed.
Tuscania was an Etruscan fortress and has kept numerous testimonies of its past. Are to visit the churches of St. Peter and St. Mary Major, several medieval towers and archaeological sites.
Once out of town, just 20 km away, always downhill, to reach the last city, Tarquinia. The ancient hamlet hides wonderful treasures that it is good to discover calmly strolling along its narrow streets, not to miss a tour of the salt flats.