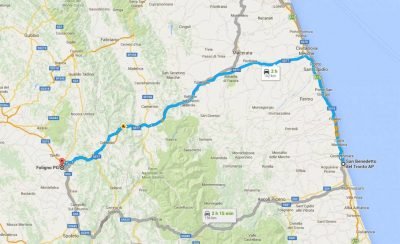 The cycle path from Foligno to San Benedetto del Tronto, passing through Civitanova Marche, will soon be real. The local authorities, including the first Foligno citizen Nando Mismetti, have been discussing the project for some time now and, in these days, there was official confirmation: over 20 mayors will join to create a creative and eco-sustainable project called "Quadricycle".
The ultimate goal is to create a cycling quadrilateral on the territory: a network of about 200 km will ranging from the Adriatic Sea to the Apennines. Will participate, in the construction of the cycle path, the municipalities of Macerata, Civitanova Marche, Porto Sant'Elpidio, Porto San Giorgio, Amandola, Foligno.
After completing the Quadricycle, sponsorship campaigns will be launched to attract cyclotourists and pilgrims from all over the world, focusing on the extreme richness and variety of supply wine and food, cultural, landscaping and historic offerings in the area. The intention is to repeat the experience of other parts of Italy and Europe where this new type of tourism is becoming increasingly successful. Given that the track will touch many towns, usually excluded from the tourist flow, there are already considerable economic benefits for the whole area; even during the low season.
The network of routes will be economical because will be exploited existing roads. In practice, they want to give value to the environment by accenting the landscape peculiarities with the aim of surpass the massive use of the car with bicycle paths.