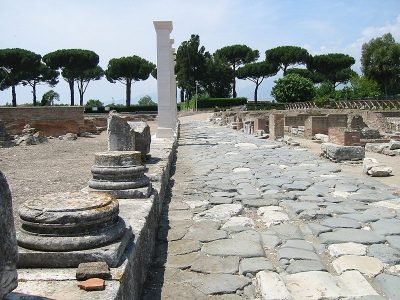 Built between the 4th and the 3rd century BC, Via Appia was one of the most important streets of ancient Rome. It use to connect Rome to the port of Brindisi. Even today it is a very busy road, but the first km no longer follows the original track.
This stretch, from the center of Rome to the locality of Frattocchie, is almost always closed to traffic on Sunday and is perfect for cycling.
You pedal, in fact, immersed in a beautiful landscape among ancient Roman monuments and fresh pine forests.
Beginning to pedal by the San Sebastian Gate you will face the typical sampietrini so much loved by tourists in Rome. About 2 km later, after the Almone River, you will come near the Parco dell'Appia Antica. Ideal place for a short break and to retrieve information maps and brochures.
Continuing, Via Appia, crosses two streets: the Ardeatina and an uphill road leading to the Catacombs of San Callisto. The best choice is to move on the last one that is paved. If you want to visit the Caffarella area, a beautiful green area right in the center of Rome, you can continue on the ancient Appia and then turn left on Via della Caffarella.
The ascent is rather short and shaded by two rows of tall pines ending at the entrance of the catacombs. As for the descent, better get off the bike because the slope is quite dangerous.
So you get down to the Catacombs of San Sebastiano. Shortly there is another short climb from the top of which you can admire the Villa and Circus of Massenzio and also the monumental tomb of Cecilia Metella.
After 5.5 km from the start, Via Appia finally appears in its most ancient dress. You can admire the original street layout, still on sampietrini, and numerous roman funerary monuments surrounded by pine and cypress trees.
It is better to pedal the side of the track on the single tracks that have come to create just for the frequent passing of the bikes. These are easy-to-follow paths where the terrain is mostly regular.
After passing two crosses, where you need to be careful, Via Appia become less interesting from an archaeological point of view and you may think to go back. However, to reach the locality of Frattocchie you just continue to follow the road, though in some places it is reduced to a simple path is still well distinguishable.